QuickBooks & QuickBooks Online:
The Evolution of Accounting.
Those who remember the days of manual accounting can probably still picture an over-sized general ledger taking over their desk. Fast forward to today, and you probably will not even find a filing cabinet in that office thanks to the Intuit and their QuickBooks Online App Center.
For the past 32 years, Intuit has provided bookkeepers and small business owners with an easy to use accounting software that did not require a CPA to operate.  Starting with the introduction of Quicken in 1994, Intuit's financial management software for individuals was widely received leading the way for QuickBooks to become their first "double-entry" accounting solution.  Revered by small business owners, QuickBooks quickly captured up to 85% of the market for small business accounting solutions where it is still an industry leader today.
But "with great power comes great responsibility" as QuickBooks quickly learned from disenchanted Accountants who began to shy away from the software due to fundamental flaws in their security controls.  Among accountants and bookkeepers alike, QuickBooks has been both the best thing and the worst thing introduced to the accounting practice.  Previously lacking an important transaction audit trail, QuickBooks allowed the end user to modify, void, or even delete previously recorded journal entries.  While this may seem harmless to DIY bookkeepers and business owners, accountants saw this as a violation of GAAP (generally accepted accounting principles) that would lead to the inaccuracy of the financial information.
Year after year, QuickBooks continued to improve by listening to its customer feedback and introduced two versions of its still popular software, QuickBooks Basic and QuickBooks Pro.  Continuing to bridge the gap between their consumer and professional users, Intuit offered industry specific versions of their QuickBooks software in 2003.  These new additions took into consideration the individual workflow processes and customized reporting unique to the different business types, but the best was still to come.
In 2004, Intuit first offered their cloud accounting platform, QuickBooks Online. It took QuickBooks Online eight years to capture the first 100,000 users, and I must admit even as a computer person, our team only started using the software for the past couple years.  Nevertheless, do not let its slow start fool you; in 2014, QuickBooks Online was adding 100,000 new users every 4 months.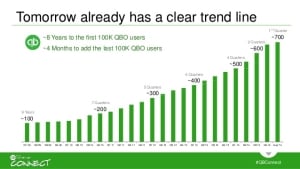 While Intuit is not the only player in the software game, I do believe that they have influenced the way businesses handle their accounting.  By focusing their growth towards cloud based accounting, QuickBooks users now have real time access their data anywhere they have an internet connection. By offering unlimited user access to the file, multiple people can be working on the same file without the need for additional license or switching to multi user mode.  By providing your accountant their own username and password, they can login anytime without interrupting your work schedule.
Although certain functions of the desktop version of QuickBooks are not immediately available through QuickBooks Online, their app center provides a huge selection of integration solutions tailored to different types of businesses.  Instead of buying, a one size fits all accounting software that forces you to pay for features you will never use, look into a QuickBooks Online subscription and contact your QuickBooks ProAdvisor for advice about which apps would be best for your situation.
As the resident "Computer Dork" for Parkway Business Solutions, I am always researching the latest and greatest apps available on the market. As a QuickBooks ProAdvisor, we have access to free demo accounts or extended trial periods allowing us to provide you suggestion based on prior experience.
If you, or someone you know expects more from your accounting, give us a call today to discuss how Parkway Business Solutions can help your company.  Parkway Business Solutions, a simple path for accounting.
[1] http://www.slideshare.net/IntuitDeveloper/getting-to-know-the-quickbooks-online-platform