As a small business consultant, it is not uncommon for me to schedule new client meeting on their home turf. While these onsite visits can be very beneficial for evaluating the company's current processes, it often made it very difficult to conduct a proper presentation.  A few years back when Parkway decided to focus our service offerings around QuickBooks Online, my business partner Mike Snelson and I felt it was important to use technology to sell technology. With a vision in mind, we created new beautiful presentations that told the story about Parkway as well as explained our service offerings that could be demonstrated from our iPad or our laptops, or so we thought.
Fast forward to our first chance to conduct our new high-tech presentation, we thought we had thought of everything, laptop, power cable, mobile hotspot for internet, and our VGA cable to connect to their TV. What we did not consider was how long the VGA cable would need to be.  Needless-to-say, our not-so-high-tech presentation was a bust. Determined not to give up, we tried again and again but always seem to have the wrong cable or even worse a bad cable. Finally, after many failed attempts we found a working combination and successful presented the benefits of QuickBooks Online from our laptops and immediately started signing up new clients.
Within no time we had the process down pact, one person acted as the distraction as the other fumbled to connect the laptop and the client's new HDTV. Life was great! Then it happened, we double booked our presentation schedule and our two-person show became two solo presentations. They tanked.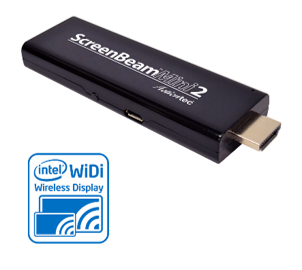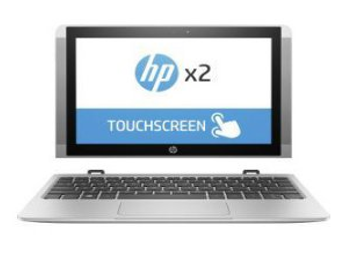 Fueled by our recent defeat, we decided to take it up a notch and spent $300.00 each
HP 2-in-1 Laptop with removable touch screen table (249.99 @ Office Depot)
ScreenBeam Mini 2 by Actiontec (49.95 @ BestBuy)
Ever since we invested into the correct tools our closing ratio nearly doubled, just by using technology to present technology.
If you have ever experienced a well-planned presentation destroyed due to a cable, then keep on reading as we share with you a couple of the wireless options on the market to help you reclaim your A Game!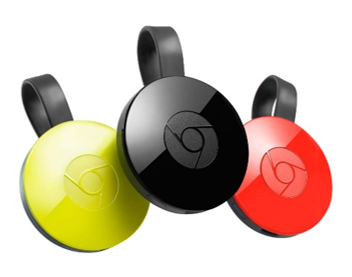 Google Chromecast: $35.00 – $65.00
Recent versions of the Chromecast provide a greater level of connectivity options for both android and iOS devices.  Like the Roku and Apple TV, they are primarily used for streaming services like Netflix and Hulu. What sets the Chromecast apart is the ability to share your entire desktop and web browser.
Solution for Mac OS: AirParrot 2 $12.99:
When you combine the Google Chromecast with AirParrot 2   you now have a seamless way to share your screen from a Mac environment to a screen with HDMI.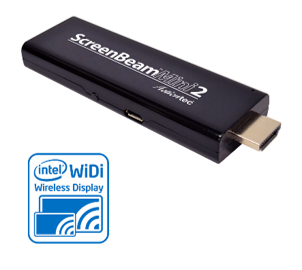 **ScreenBeam Mini 2: $45.00 – $65.00**
The ScreenBeam Mini 2 was by far the simplest to setup and get running out of all the units tested. Within seconds, I had the device plugged into the TV's HDMI port and my laptops screen displaying on the big screen.  The ScreenBeam supports dual-band 2.4GHz and 5GHz Wi-Fi signals.  This is the perfect choice for Android and Windows based machines, that support Miracast technology. Unfortunately, this unit will not work for iOS devices.,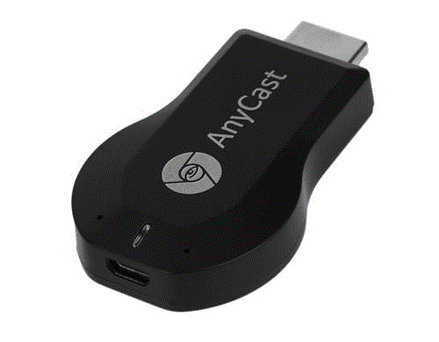 Anycast (or WeCast): $15.00 – $40.00
The Any-cast unit is by far the most versatile allowing you to connect both iOS and Android devices.  While the all in one unit is very convenient when setup in a shared conference room, the initial connection process requires a little more attention.  After reading the instructions, I was able to quickly connect the unit to my Wi-Fi router which allowed me to sync the unit to my laptop.  Most units only support 2.4GHz environments which can cause signal interference and choppy video playback.  This would work great for a presentation, but it would not be recommended for video playback.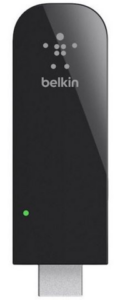 Belkin Miracast Video Adapter: $50.00 – $75.00
Belkin's adaptor is limited to Miracast devices (Android or Microsoft Devices) and has not received the best reviews.  Be sure to check compatibility with your device before purchasing
Apple TV and Amazon Firestick:
While both units do offer some form of streaming, they are not recommended for out of the office presentations.  With AirPlay it is possible to cast your iPad or iPhone onto a screen, but the setup required on the Apple TV in a new environment eliminated it from our list.
Amazon's Firestick is great for streaming media, especially when paired with Alexa, but lacks the features necessary to conduct a proper presentation