How to Use Projects in QuickBooks Online
Projects
was first introduced to
QuickBooks Online
in 2016 bringing the program one step closer to the functionality provided by its desktop counterpart. Since its introduction, Intuit has been working hand-in-hand with small business owners and accountants toward a job costing solution that everyone would love.
During this article we will share the best way to setup your company file to enable the new Projects feature. Remember the Project feature is only offered as part of
QuickBooks Online Plus.
Setting up your Company File:
Expenses Tab:
Make

expenses and items billable

You may also want to enter a

percentage

for the

markup

Purchase orders

is turned on
Sales Tab:
Turn on

Progress Invoicing
Advanced Tab:
Select the pencil icon on the

Projects section

to turn the feature on.
Check the

Organize all job-related activity in one place

box
Create a new

service item

using both the sales and purchase descriptions (also known as a two-sided item). This will allow us to take the same item from the estimate and us it on an invoice as well as a purchase order which will be turned into a bill.
Use the

sales description

to display anything you want presented on the estimate & invoice.
Use the

purchase description

to display anything you want presented on the purchase order & bill.
Select a

Preferred Vendor

name to reference while ordering items using a purchase order.
Lynda's ProAdvisor Tip:
For more on bundles where you can group items together to sell as a package, check out this blog article
"When you pay attention to detail, the big picture will take care of itself."




-George St-Pierre
Job Costing
is vital to the success of project-based businesses. Without proper tracking of expenses at the project level, you may never know how profitable, or unprofitable the job really was. At the surface level, job costing sounds very simple which often leads young businesses to dive in before they are truly ready. While some may not agree, we believe that job costing is something that a business needs to grow into.
When it comes to proper job costing, business owners should know that will require about
4x
the standard time commitment to their books
FOR THEM
. If you stop and consider all the client communications involved with each job and each expense approved for the job, it is nearly impossible for an outside accountant to properly assign transactions between jobs without a lot of help.
Workflow of Creating a New Project:
Each project should begin by creating an estimate in QuickBooks Online. But before we can do that, let's start by creating a new client and then a new project under that client.
Create a new
Customer
if one does not already exist.
Select
Projects
tab when the new customer record is displayed on the screen.
Select

New Project.

Enter the

Project name

(see tip below for best naming conventions)
Confirm the proper

Customer

has been selected for the project.
Select Save.
Your new project card will open (see the image below)
Matthew's ProAdvisor Tip:
Do not create the project name with the customer name at the beginning. This is very important to ensure that the project is always selected when assigning line items and not the customer by accident. We recommend you give it a unique name as demonstrated in the video. For example, use "bathroom remodel"
Understanding the Project Card in QuickBooks
After selecting the project that you wish to update, QuickBooks Online will display the project's card where most of your tasks will be started.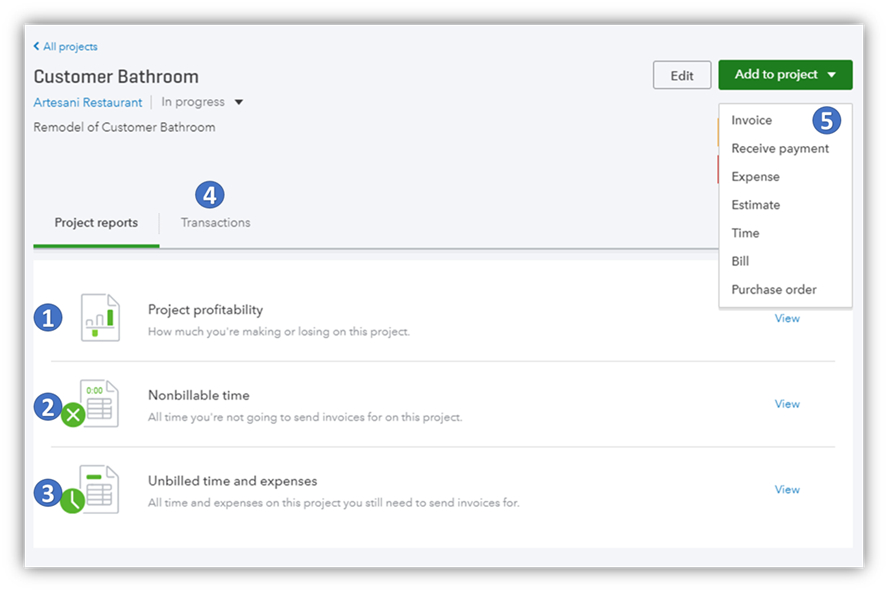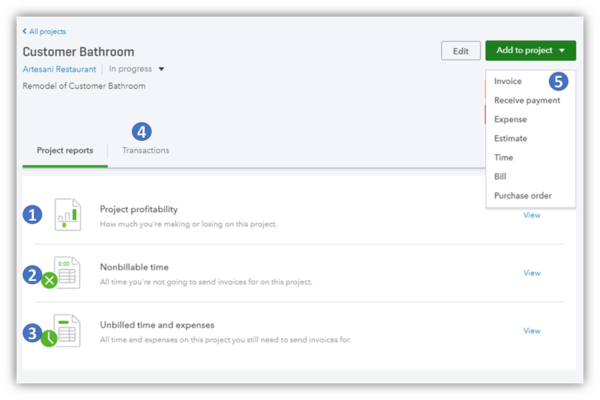 View this section to pull up a Profit and Loss report specific to this project. Anything that you tagged to this project will be included. Don't forget to check if your reports are displayed under cash or accrual basis.
This will display any time activities that you incurred toward a project but were not able to bill the customer for. This information can be useful to determine your effective labor rate for the job.
Unbilled Time and Expenses:
This is one of the most important reports to check, this will help ensure you do not forget to bill a client for unexpected expenses or additional time spent toward completion.
Select the transactions tab to view all your estimates, invoices, billable expenses, and bills related to this project. It is important to note that expenses that were tagged to the project will not show up in the transaction list, but they do populate on the reporting.
Add to Project Drop-down:
Use this drop down to select the type of transaction that you want to add to the project. If you start each project with an estimate, you will have the ability to create an audit trail that links the money in and money out for the project.
Lynda's ProAdvisor Tip:
Track your Estimates and keep track of them. Was the Estimate pending, rejected, accepted or closed? It will help you track your closing ratio.
The Two Paths of Project Profitability:
To simplify the workflow, there are two types of transactions that are applicable to job costing: Money In and Money Out.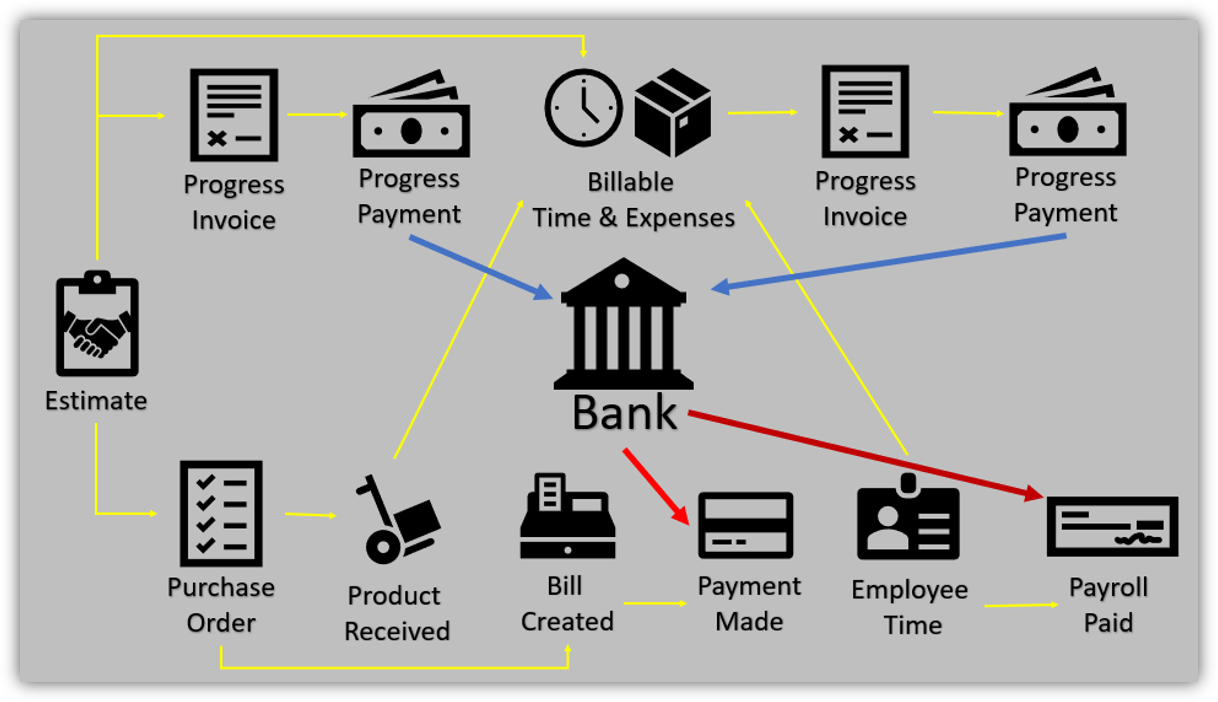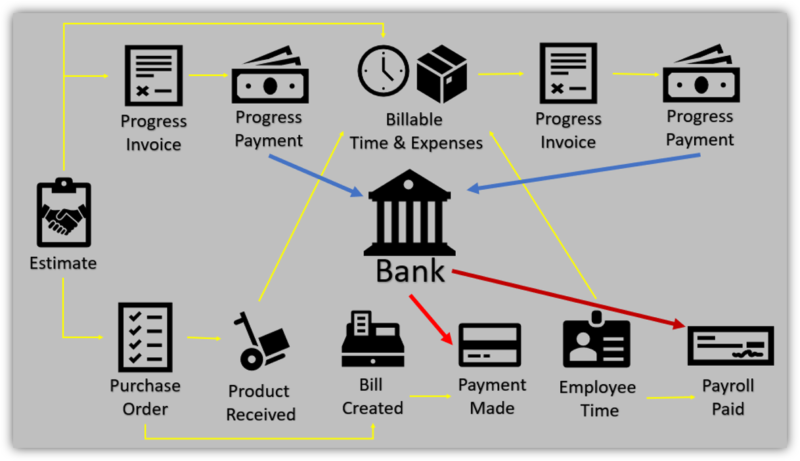 Create an Estimate. Make the estimate to the project name
Turn an Estimate into an Invoice with Progress Billing
Receive a Payment on the Invoice
Review the Profit and Loss
Turn Time Activity into an Invoice
Turn the Billable Expense into an Invoice
Receive a Payment on the Invoice
Review the Profit and Loss
Create an Estimate
Turn Estimate into a Purchase Order
Receive a partial Purchase Order and create a Bill
Make a Bill Payment
Review the Profit and Loss
Add in Time Activity
Create a Billable Expense
Make a Bill Payment
Review the Profit and Loss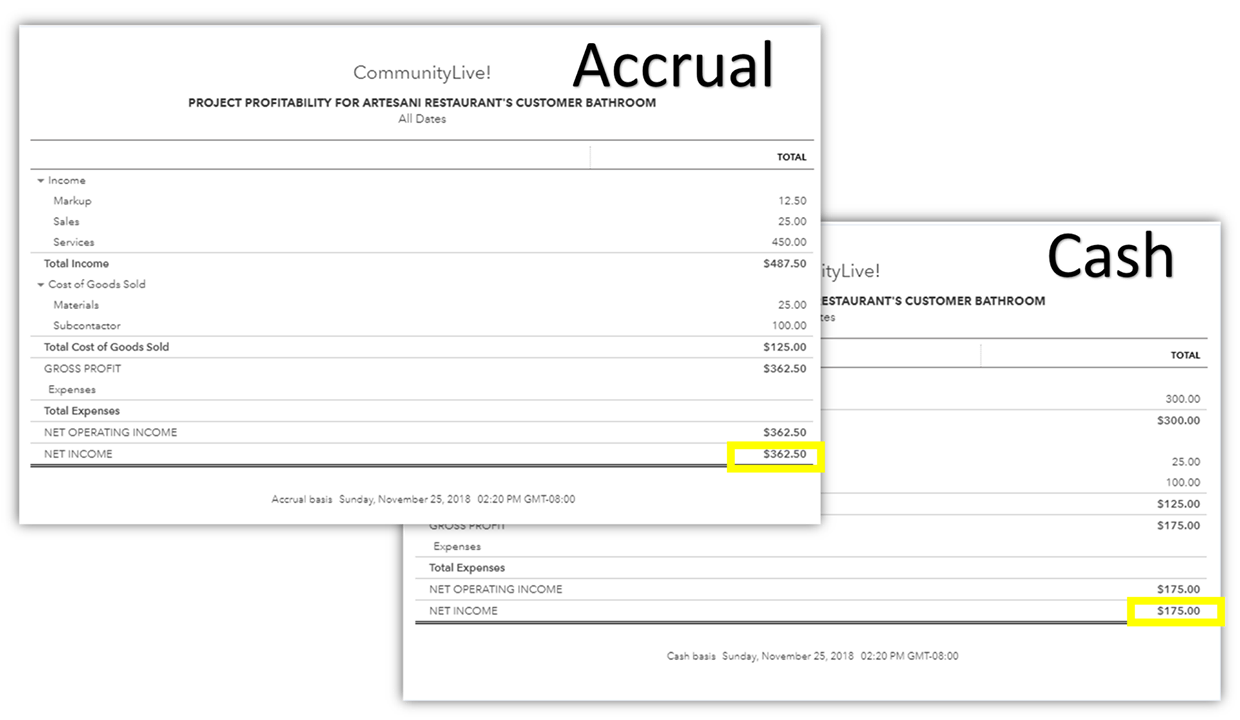 As discussed in the video, reports may look different based on your chosen accounting method. Accrual basis will show the transactions at the bill and invoice level. Cash basis reporting will show on the reports with the bill payment and invoice payment level.
New Features Coming to Projects in 2019:


This year QuickBooks Connect new feature announcements were heavily centered around the advancements in QuickBooks Projects. The new dashboard design makes it very easy for business owners to evaluate the performance of all their current projects at the same time. With a quick glance this new dashboard beautifully displays the total income and expenses per job as well as the total time allocated to the job and the expected profit margin.
For even greater detail, the business owner can drill into a project further and find a complete profitability dashboard.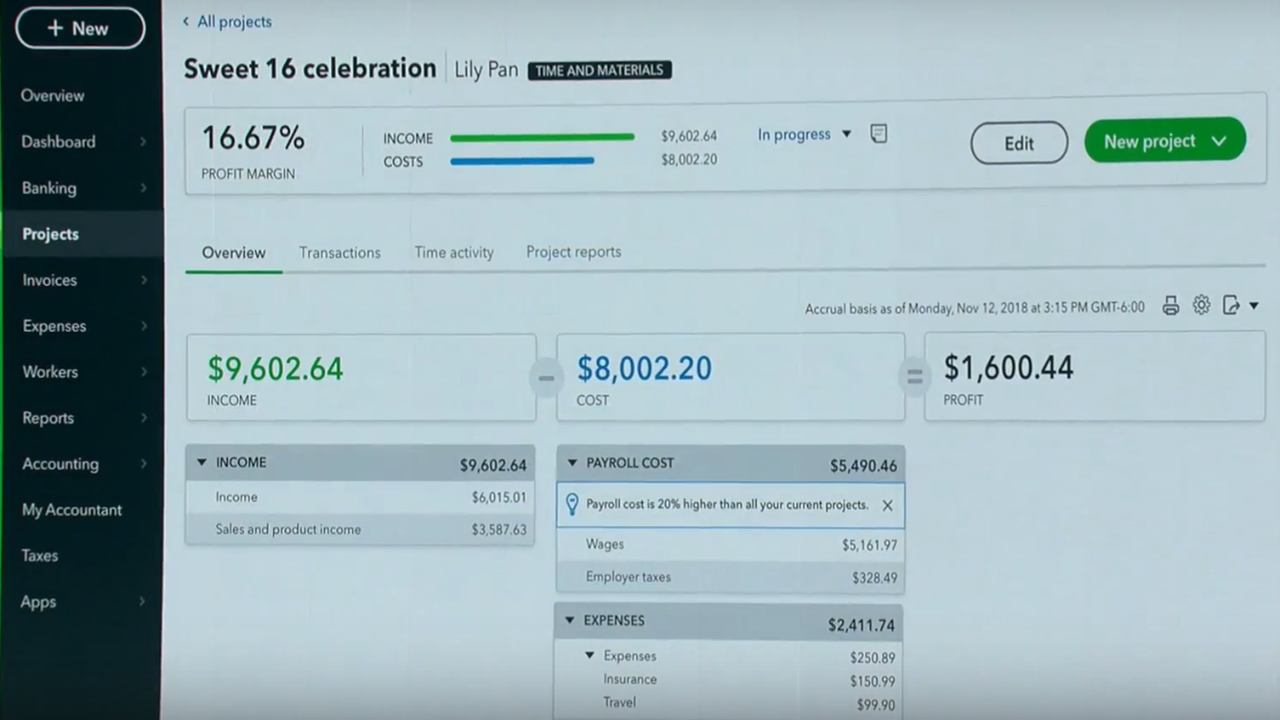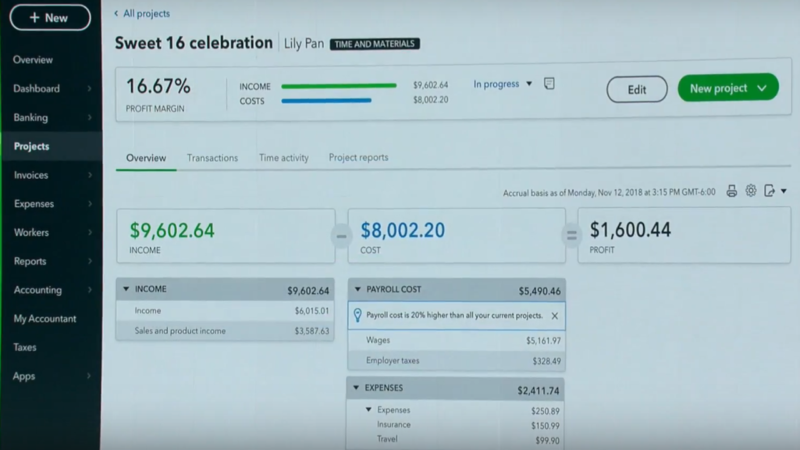 Thanks to their acquisition of T-Sheets at the end of 2017, companies utilizing QuickBooks Payroll with QuickBooks Online will be able to utilize time tracking directly from the mobile application. Employees will be able to select a project while clocking in allowing the company to track their labor efficiency against other projects running.
Since it's release, QuickBooks Online has been shunned by desktop users for its poor job costing capabilities. Thanks to these new improvements, I think even the most avid desktop fan cannot help but take a second look. QuickBooks Online may still have a ways to go before it could truly replace the power behind QuickBooks Desktop, but their cloud based counterpart has proven that it is here to stay.